Harold P. Pruett was an American actor. He is known for Sybil (1976), Summer Camp Nightmare (1987), and Embrace of the Vampire (1995). In The Outsiders TV series, Harold Pruett was a main cast member and portrayed Steve.
Personal life
Harold Pruett was born on April 13, 1969. He has a brother who is 14 years older than him. His parents owned the café in Newberry Springs, California, featured in Out of Rosenheim (1987). Pruett studied two years at the Lee Strasberg Institute and the Los Angeles Music Center.
Harold Pruett has a son named Tanen Pruett.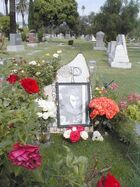 Harold Pruett died on February 21, 2002 at the age of 32 in Los Angeles, California, of a drug overdose. His grave is at Hollywood Forever Cemetery in Los Angeles, California, at Section 6, plot 46-A, space 31.[1]
Career
Filmography
Images
→ see also Harold Pruett/Gallery and Category:Images of Harold Pruett
References
↑ Harold P. Pruett at Find A Grave
External links
Ad blocker interference detected!
Wikia is a free-to-use site that makes money from advertising. We have a modified experience for viewers using ad blockers

Wikia is not accessible if you've made further modifications. Remove the custom ad blocker rule(s) and the page will load as expected.