Rodney Michael Harvey was an American actor and model. He appeared in several movies such as Five Corners (1987), My Own Private Idaho (1991), and Guncrazy (1992). In The Outsiders TV series, Rodney Harvey was a main cast member and portrayed Soda Pop.
Personal life
Rodney Harvey was born on on July 31, 1967 in in Philadelphia, Pennsylvania. He has as an older brother named Eddie and a sister-in-law named Beckie.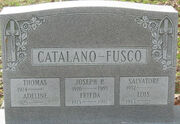 Rodney Harvey died on April 11, 1998 at the age of 30 in in the Barbazon Hotel, Room 222, in Los Angeles, California, of a drug overdose. He was interred in the grave of his maternal grandfather, Joseph Catalano, at Saints Peter and Paul Cemetery in Springfield, Pennsylvania, at section 16, range 25 lot 7.[1] His name does not appear on the gravestone.
After his death, images showing Harvey under the influence of drugs appeared in an Office of Drug Control Policy ("Partnership for a Drug-Free America") public service annuouncement.
Career
Filmography
Images
→ see also Rodney Harvey/Gallery and Category:Images of Rodney Harvey
References
↑ Rodney Michael Harvey at Find A Grave
External links
Ad blocker interference detected!
Wikia is a free-to-use site that makes money from advertising. We have a modified experience for viewers using ad blockers

Wikia is not accessible if you've made further modifications. Remove the custom ad blocker rule(s) and the page will load as expected.