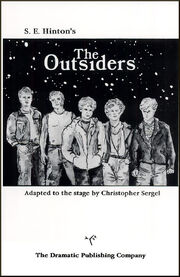 The Outsiders is a stage play written by Christopher Sergel based upon the novel of the same name by S. E. Hinton.
Play
The Outsiders is a full length play in two acts with a playing time of about two hours. The play was published in 1990 by Dramatic Publishing, a publishing company for stage plays founded in 1885 and held by the Sergel family.
Characters
The play is for 17 people: 12 men and 5 women (or 10 men and 7 women, if the roles of Jerry and Mr. Syme are also played by women)[1]
Extra characters include greasers, socs, hospital worker, children (if available).
References
↑ Outsiders Script, preview at scribd.com
External links
Ad blocker interference detected!
Wikia is a free-to-use site that makes money from advertising. We have a modified experience for viewers using ad blockers

Wikia is not accessible if you've made further modifications. Remove the custom ad blocker rule(s) and the page will load as expected.