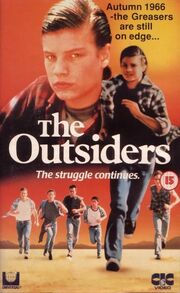 The Outsiders is an American television series produced by Francis Ford Coppola, who also had directed the movie of the same name. It was aired on Fox from March to July 1990 and cancelled after 13 episodes.
Synopsis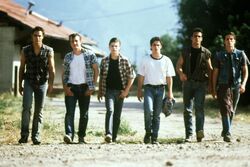 The 90-minute pilot episode directed by Sharron Miller served as a sequel to the film and began with a short scene from the original film of Dallas Winston (Matt Dillon) running from police and being shot.
Alan Shapiro wrote and directed the pilot, which was aired as a special preview on March 25, 1990, exactly seven years after the release of the film, at 9:30 p.m. It was Fox's highest rated drama in the network's history, drawing a 9.3/16 national Nielsen rating and 14.1 million viewers, and tied for 64th for the week. However, The Outsiders lost half the viewers from its Married... with Children lead-in.
Cast
→ main article Series cast
Episodes
→ see also Episode guide
No.
Title
Director(s)
Writer(s)
Original air date
1
Pilot
Sharron Miller
Alan Shapiro
Alan Shapiro
March 25, 1990
(double length)
2
The Stork Club
Director: Jan Eliasberg
Bruce Kirschbaum
April 1, 1990
3
Only the Lonely
April 8, 1990
4
Breaking the Maiden
April 15th, 1990
5
He Was a Greaser, Only Old
April 22, 1990
6
Maybe Baby
April 29, 1990
7
Storm Warning
May 6, 1990
8
Mirror Image
May 13, 1990
9
Carnival
May 20, 1990
10
Tequila Sunset
June 10, 1990
11
Winner Takes All
June 24, 1990
11
The Beat Goes On
July 15, 1990
12
Union Blues
July 22, 1990
Images
→ see also The Outsiders (TV Series)/Gallery#Images and Category:Images from the TV series
Videos
→ see also The Outsiders (TV Series)/Gallery#Videos and Category:Videos from the TV series
External links
Ad blocker interference detected!
Wikia is a free-to-use site that makes money from advertising. We have a modified experience for viewers using ad blockers

Wikia is not accessible if you've made further modifications. Remove the custom ad blocker rule(s) and the page will load as expected.