Two-Bit Mathews
Talk

2
77pages on
this wiki
Two-Bit Mathews

Birth Name:

Keith Mathews

Nickname:

Two-Bit

Born:

1947

Hair Color:

Rust colored (Light brown in movie)

Eye color:

gray

Family members:

Mrs. Mathews (mentioned only)
unnamed kid sister

Portrayed By:
Keith "Two-Bit" Matthews is eighteen and a half, and still a Junior in high school. He is the "...oldest and the wisecracker of the bunch." He's actually the 2nd oldest (Darry is 20), and is known for stealing and making wisecracks.
Physical Appearance
Two-Bit Mathews was around six feet tall, stocky in build, and was very proud of his long, rust-colored sideburns. He has grey eyes and was always wearing a wide grin.
In "The Outsiders" novel, Two-Bit's hair is described as 'rust colored.' In the film, however, his hair appears to be light brown or dark blond, rather than rust colored.
Characteristics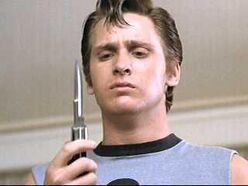 Two-Bit is a wise-cracking, fun-loving, kind of crazy guy. He's always grinning, and he can never stop smarting off to the cops. Ponyboy once states, "He really couldn't help it. Everything he said was so irresistibly funny, that he just had to let the police in on it to brighten up their dull lives" (which was how he put it to Ponyboy once). He gets drunk often, but it's kind of hard to tell when he is from when he's sober.
From what is shown in "The Outsiders" film, Two-Bit enjoys watching Mickey Mouse, a cartoon by Walt Disney.