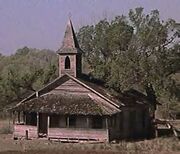 Windrixville is the town where Dally told Ponyboy and Johnny to hide after Johnny accidentally killed Bob after the two were cornered by the Socs. They stayed there in an old wooden church on Jay Mountain. After a few days, Dally paid them a visit. They drove to town to get something to eat at the Dairy Queen. On the way back, Johnny decided to turn himself in to the police. When they arrived on the mountain, they saw that the church had caught fire.
Ad blocker interference detected!
Wikia is a free-to-use site that makes money from advertising. We have a modified experience for viewers using ad blockers

Wikia is not accessible if you've made further modifications. Remove the custom ad blocker rule(s) and the page will load as expected.